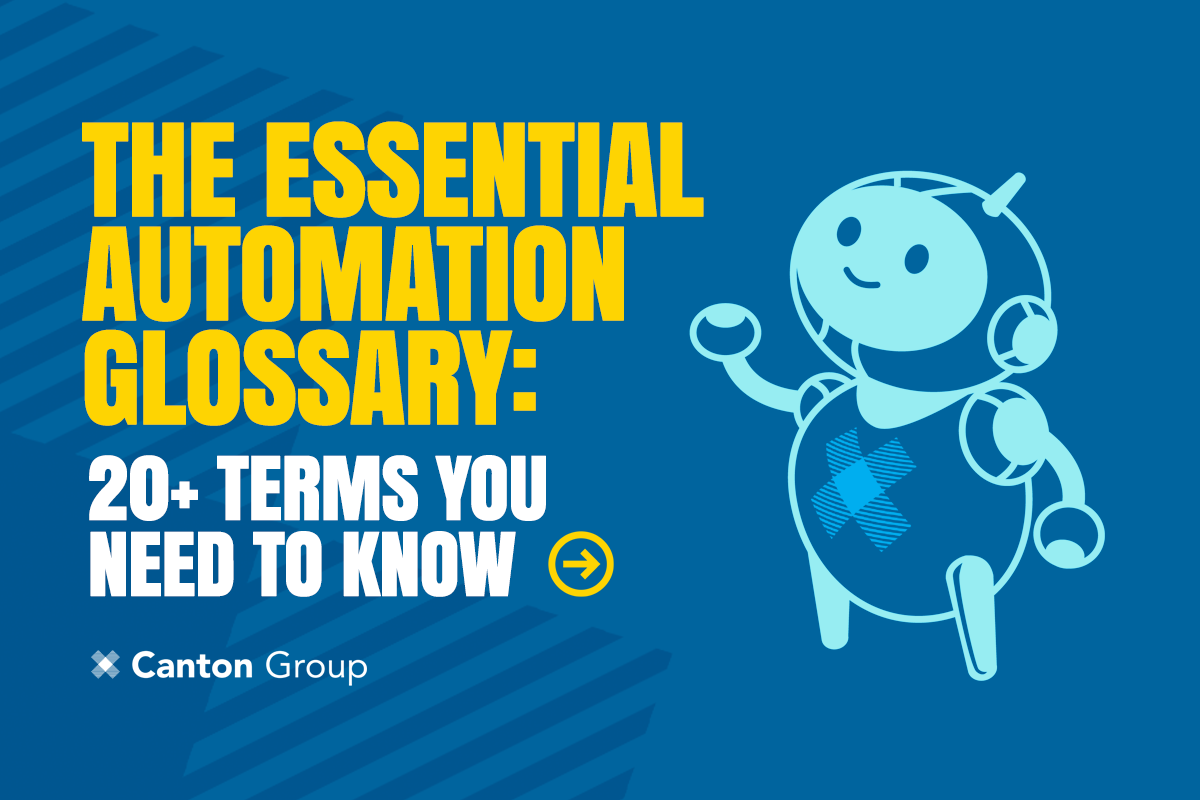 Looking for more information about automation? Here is a collection of industry terms and key words associated with all things automation. We have included some real-world examples of these terms and hope this serves as a helpful reference tool when determining how to best leverage automation to meet business goals and objectives.
---
Artificial Intelligence (AI)  
Digital robots programmed to perform specific tasks and make inferential decisions based on what they have learned from previously performed tasks. An artificial intelligence (AI) bot can learn to mimic human behavior and adapt to change or new situations to make logical decisions. For example, an AI bot can be used to extract key information from documents, databases, invoices/receipts, and migrate that information into your business' accounting or internal software.
Ever schedule an online appointment with a medical doctor? You may have AI options that compare your schedule to your doctor's, making recommendations based on the best available days and times.
Automation Roadmap  
A structured plan which typically includes an organization's strategic business goals, keys for success, and guidelines for meeting digital transformation goals. A comprehensive automation roadmap may include a cost-benefit analysis of the processes to determine if key benchmarks are met.
Bots  
A 'bot' is a simple term for a robot. This will usually conjure up visions of R2D2 and C-3PO from Star Wars however there are also non-physical forms of robots as well. A simple computer robot – referred to as a digital robot – can help free employees from repetitive mundane tasks. When paired with AI, these digital bots can start to perform even more complex tasks.
Typical types of bots include:
Attended Bots – Computer programs designed to work with the human workforce and require ongoing interactions between human and bot(s).
Unattended Bots – Computer programs designed to work autonomously completing rule-based tasks without human interaction.
Center of Excellence (COE)  
An internal team which supports and streamlines the implementation and ongoing deployment of intelligent automation solutions across an entire organization. By leveraging a Center of Excellence (COE), an organization can help maximize the benefits and scalability of automation.
Chatbot  
Chatbots are used to reduce the time customers spend looking for support or answers to questions. Some of the more commonly used forms of automation, consumers interact with chatbots when quick communication is needed. For example, connecting with Verizon to pay a bill, United to confirm flight information, or even Siri on an iPhone to ask the world's population.
Citizen Developer  
An employee who creates automation tasks for themselves or the organization, using low-code/no-code platforms. These employees are often not technically trained and use the IT authorized low-code/no-code platforms to automate processes. The term Citizen Development is often referred to the processes of giving the opportunity for non-IT trained employees to learn these platforms.
Computer Vision  
A field of artificial intelligence that can be used to interpret and understand the visual world. In Robotic Process Automation (RPA), it can be used to interact with applications when typical selectors may not be able to be used. This would be used if needed to automate a process using a remote environment such as a Virtual Desktop Infrastructure (VDI) or Citrix. Other examples of this technology include Face ID to log-in to your phone or depositing a check online (by using your phone's camera).
Document Understanding / Intelligent Document Processing  
Powered by AI, it can be used to read and understand documents. This process can then be implemented to help process everyday documents, thereby increasing productivity and reducing human error.
Hybrid Robot  
A combination of attended and unattended robots that provide end-users support to backend processing in a single solution. In many cases, an attended robot will perform the parts that require human interaction while the unattended robot finishes it. This is commonly used when automating Accounts Payable Processing; an unattended bot would gather Purchase Orders (PO) to review and the attended bot would prompt an employee to review each PO for approval.
Intelligent Automation (IA)  
Intelligent automation (IA) combines Robotic Process Automation (RPA) with advanced technologies such as artificial intelligence (AI), analytics, optical character recognition (OCR), intelligent character recognition (ICR), and process mining to create end-to-end business processes that think, learn, and adapt on their own. IA is sometimes referred to as intelligent process automation (IPA) and hyperautomation.
Hyperautomation  
This idea has been around for a while, however the term itself was first used in the Gartner's Strategic Technology Trends for 2020. Hyperautomation adds another layer to the automation toolset by using artificial intelligence, machine-learning, task mining, process mining, and RPA together to deliver holistic automation solutions.
Low-Code / No-Code  
Visual software development environments that allow technical and non-technical individuals to create custom applications or other development needs. Low-code is mostly used by IT professionals with little coding experience to create more complex automations or applications. No-code enables business users (non-technical) to create automations or applications without requiring coding knowledge to address their business needs.
Machine Learning  
Machine learning uses data and algorithms to predict the next step in a process. It uses structured and semi-structured historical data to "learn" and make predictions without being explicitly programmed.
Optical Character Recognition (OCR)  
This machine-learning method can extract text from flat images/files into a machine-readable electronic text format. Examples of Optical Character Recognition (OCR) include any type of images from flattened documents or PDFs, books, signs, license plates, and much more!
Process Mining  
Process mining leverages event logs that are created by enterprise systems such as Enterprise Resource Planning (ERP), Customer Relationship Management (CRM), and Supply Chain Management (SCM) to build a virtual view of the business process. This provides organizations with the ability to see how business processes currently are running, as well as identifying new opportunities for automation.
Proof of Concept (POC)  
A small project or demonstration that will validate the benefits and the business impact of automation helping move on to the next stage.
Return on Investment (ROI)  
The balance of the cost of development, implementation, and maintenance of a system that provides measurable business benefits in higher productivity, fewer costly errors, and more satisfied team members.
Robotic Process Automation (RPA)  
Robotic Process Automation (RPA) is the application of technology to automate business processes. RPA can be used to perform simple tasks, such as data entry, or more complex processes, such as credit card application processing. RPA allows a company to delegate repetitive tasks to digital bots so skilled employees can do more value-driven work. It also will speed up workflows, and virtually eliminate the risk of human error.
So, how is RPA different from a bot? Bots perform the automated tasks and RPA is the entire automated business model, responsible for managing and orchestrating the bot(s).
Structured vs. Unstructured Data  
Structured data is stored in a pre-defined organized format, allowing for easy search and analysis (e.g., a relational database). Unstructured data is everything else; there are no pre-defined data models or schema, making it more difficult to analyze.
Task Mining  
Utilizes user interaction data to assess the efficiency of a task within a larger process. The goal of task mining is to understand the activity in more detail, optimize, improve, or even automate tasks.