The U.S. Agency for International Development OIG's mission is to safeguard and strengthen United States foreign assistance through timely, relevant, and impactful oversight.
OIG provides management and oversight to the programs and operations for five U.S. foreign assistance agencies: U.S. Agency for International Development (USAID), Millennium Challenge Corporation (MCC), U.S. African Development Foundation (USADF), Inter-American Foundation (IAF), and U.S. International Development Finance Corporation (DFC).
The Challenge
The USAID OIG engaged The Canton Group to migrate their current website to a more modern version to improve the dissemination and visibility of work to their three targeted audience groups: Agency Leadership, Congress, and Media Outlets. Website redesign activities included leveraging Drupal 8 Content Management System (CMS), optimizing user interface design, navigation and content restructuring, and adherence to Federal Government guidelines for compliance, including:
Section 508 Compliance
Web Content Accessibility Guidelines (WCAG) 2.0
IT Security Standards
Content Migration
Deployment Support
Web Application Monitoring
User Training Services
Our Solution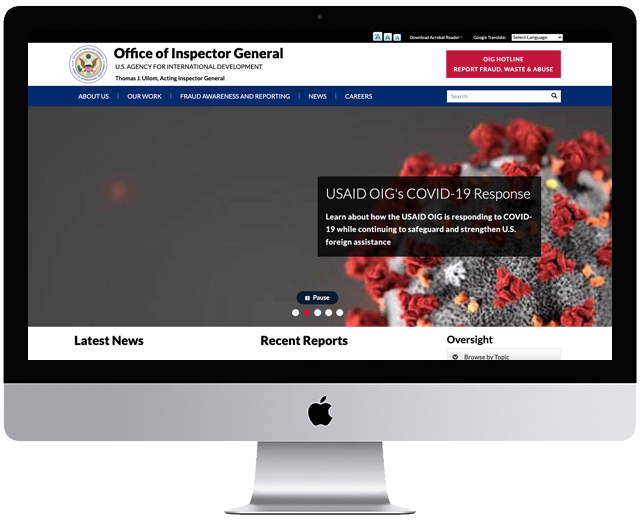 The Canton Group has provided the USAID OIG with application and system maintenance and support services, covering a variety of critical tasks including performing security vulnerability scanning and remediation, Drupal updates and security patching, and monitoring for and responding to website outages. Work done under this effort has additionally included module updates, managing Service Desk inquiries and requests, as well as PDF remediation (to ensure Section 508 Compliance).
By leveraging our Agile methodology, The Canton Group has provided comprehensive Project Management services to the USAID OIG. This has consisted of providing regular status reports, bug tracking, developing new features while maintaining/editing existing features, road mapping assistance, deployments, and documentation for all phases of the project.
Within the duration of this contract, The Canton Group has also:
Performed a successful server migration to Microsoft Azure   
Through partnering with industry leaders, we provided recommendations, solutions, and technical expertise to deliver a server migration to the Cloud.
Partnered with the USAID OIG to complete Authority to Operate (ATO) documentation, reporting, and activities   
Through an extension of this effort, The Canton Group has integrated Single Sign-On (SSO) and provided support and consultation services related to Web Application Firewall (WAF).
The Impact
SSO Integration
Single Sign-On (SSO) was integrated for improved security and access for USAID OIG staff
Drupal Upgrade
Upgrading and migrating the USAID OIG application from Drupal 8 to Drupal 9
High Client Ratings
We received "exceptional" ratings in the Contractor Performance Assessment Reporting System (CPARS)
We are proud to have supported USAID OIG since 2017 and look forward to many more years to come!